Review ~ THEIRS TO TAKE by Laura Kaye
Decadent… Sensual… Forbidden…

12 Masters. 12 Desires. 12 Fantasies Come to Life.

Meet the Masters of Blasphemy…
Theirs to Take is the Hottest Book in the series to date! 10 Stars of AWESOME!!!~ Elizabeth @ White Hot Reads
Best friends Jonathan Allen and Cruz Ramos like to share. So when they meet their match everything opens including their carefully guarded feelings for each other. Hartley Farren has a way of getting inside of these men's hearts. Once this happens she allows them to share and explore all that they can be together in this triad.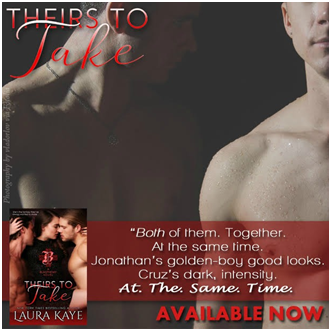 And don't miss the first standalone titles in the Blasphemy Series!
On His Knees #5 – Coming Winter 2018
EXCERPT and Note From Laura Kaye:
I'm thrilled to be celebrating the release of my super hot and emotional Theirs to Take, the next erotic standalone romance in my Blasphemy series, about the twelve Masters who run and play at Baltimore's most exclusive club. Theirs to Take is a sexy ménage about what happens when two prior navy best friends and business partners meet a woman who makes them admit to desires they've never before voice. I think you're going to love Jonathan and Cruz! I know I adored writing them! Even more fun, there are characters and scenes in Theirs to Take that cross over with the amazing Jennifer Probst's brand new Reveal Me – and the best part is that both are standalones so you can dive right in!
Now, read in for a taste of Theirs to Take…
"Are they like you?" Hartley asked her friend, Scarlett, who'd recently joined the club called Blasphemy that she'd learned Jonathan and Cruz owned.
"A submissive, you mean?" When Hartley nodded, Scarlett said, "No. They're Dominants. They like to control the scenes and their partners' pleasure. Master Jonathan and Master Cruz are alphas through and through." Scarlett gave her a teasing smirk.
"Master…" Hartley murmured, trying out the word. Aided by her friend's commentary, her brain offered up all kinds of unhelpful imaginings. Her, on her knees, Jonathan standing over her. Or would it be Cruz? Being pulled over one of their laps, her ass in the air, hands stroking her. But whose hand? Gah. This was a full-on trip to crazytown. "Um, okay."
Just then, the waiter arrived with their appetizer, but Hartley was too gobsmacked to think about food. As Scarlett forked a piece of mozzarella onto her plate, she looked like the cat that ate the canary. "There's more."
"How can there be more?" She almost didn't want to know. No, scratch that, she really wanted to know. "What kind of more?"
"Take another sip," Scarlett said, chuckling and tapping at the rim of her wine glass.
Hartley didn't resist. She took a big drink, her heart racing, her head spinning, just a little, because she'd skipped breakfast this morning.
"Hartley, Jonathan and Cruz do scenes together."
"Oh." Her shoulders fell. "So they're a couple?" Man, that was…kinda disappointing. She totally got it, though. They were beautiful men. Best friends. Had served in the military together and now were business partners. It made sense that they could be together romantically. But, damn, she'd read that flirtation all wrong, hadn't she?
And hell if that disappointment she was feeling didn't reveal a thing or two…
Scarlett shook her head. "No, well, maybe. I don't know. There's some speculation around the club that there might be something romantic between them. But what I mean is, they do scenes together. Both of them with the same submissive. At one time. You know, like, ménage à trois."

It was a good thing Hartley had just swallowed, because otherwise she might've done a cartoon-like spit take. Heat roared through her body. Because those imaginings she'd just done…that question she'd just asked herself about which one would be starring in those fantasies with her…now she had her answer. They might not make her choose.
"That is the…hottest, craziest thing I've ever heard in my whole life," Hartley managed, her brain possibly shorting out at the thought. Both of them. Together. At the same time. Jonathan's golden-boy good looks. Cruz's dark, intensity. At. The. Same. Time.